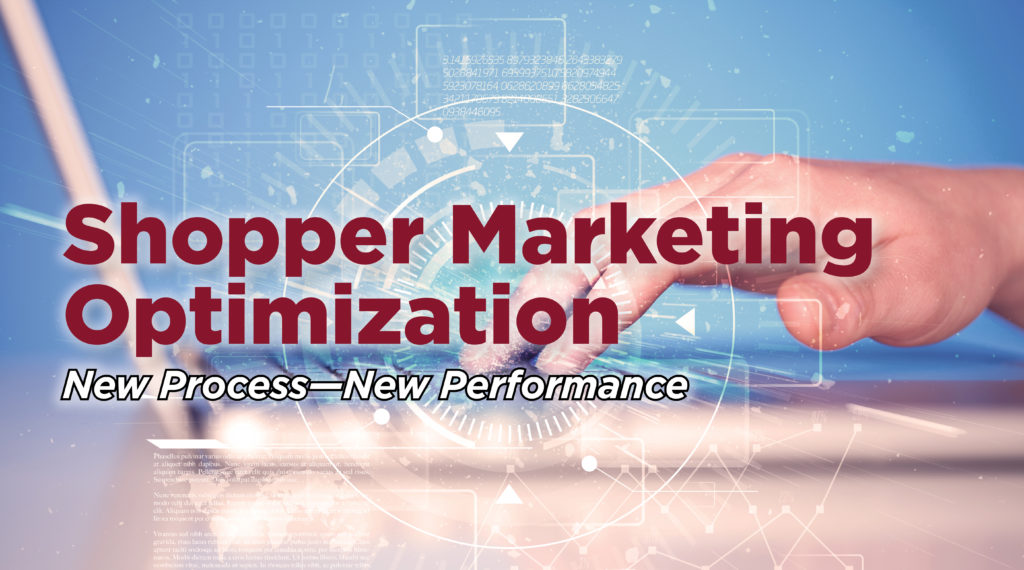 Meeting the Modernization Demand
78%
of shopper marketers
rank their process efficiency
AVERAGE
or WORSE
While trade promotion, retail execution and other essential CPG activities leverage technology to automate processes and unify insights, shopper marketing fails to modernize. In fact, our 2018 Shopper Marketing Optimization Report found that 78% rank their shopper marketing process efficiency as average or worse, even though 84% say improving shopper marketing agility and cost is more critical than ever.
With lack of modernization impacting performance, shopper marketing optimization has become critical to maximizing revenue and securing retail partnership.
---
SMO Suite: Key Features
As the industry's exclusive shopper marketing optimization software provider, Cierant offers a modular suite of  cloud-based solutions specifically designed to digitally transform shopper marketing management.
Performance-Based Budgeting
Optimize your commercial investments with a collaborative budgeting tool that allows managers to assign budget to measurable goals, allocate across customers, and track performance through real-time reporting of spending activity, viewable at the customer, category and brand level.
Digital Content Management
Reduce agency costs and maintain brand compliance with a content management system that creates templated versions of key program creative for all digital and in-store tactics to enable live customization via menu-driven selection of variable content and graphic elements.
Data-Driven Program Planning
Streamline the program planning process with an automated workflow that allows field sales to view available programs and seamlessly create multi-brand plans through selection of key scheduling data—from run time to participating retailers and material due date.
Online POP Ordering Storefront
Better manage display costs and accelerate retail execution with an application that supports on-demand ordering of custom and inventoried POPs, auto-calculating profit margin and total production cost to ensure every project meets ROI goals.
Real-Time Customer Analytics
Strengthen customer management with a BI dashboard that creates dynamic retailer profiles and delivers instant insight into past, planned and active shopper marketing activity, from in-store marketing distribution status to program cost actuals.
Print Procurement & Supply Chain
Enable on-demand ordering of your in-store marketing tactics through systems integration with our national network of state-of the-art digital print on demand and flexographic printing partners for rapid brand activation at low cost and superior quality.